On a bright summer day, the sun streams in the windows and dances around the color-washed walls of the St John Neumann School for Children and Families.  The natural tones blur the lines between indoors and out making the temperature-controlled space seem as warm and welcome inside as it is outside. We hope these walls make our school feel like an inviting place for all families to grow and learn.
For walls that welcome all, we turned to local artist Kim Klein.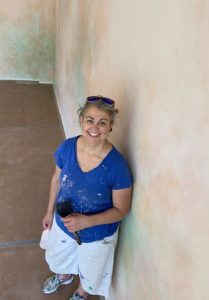 During her training in Interior Design, Kim ventured down a path that led her to commercial and residential painting. She said it was actually 3D design and sculpture that ignited this appreciation for a paint process that makes the wall appear textured.  SJN leadership became familiar with the technique after seeing some of Kim's work at the Susquehanna Waldorf School in Marietta.
The founder of Waldorf education, Rudolf Steiner believed, "color bridges the inner soul and the outer world" so that we "feel blue" and "see red" when we experience big emotions.  In behavioral health, the very same link between colors and feelings helps very young children describe emotions which can help them develop the healthy self-awareness and self-control we promote at the St. John Neumann School for Children and Families.
Every classroom has been designed to ensure safety, inspire creativity and promote resilience.  As the playful interior comes to life, we will post more and more pictures. We can't wait to meet the families for whom we've made this space!