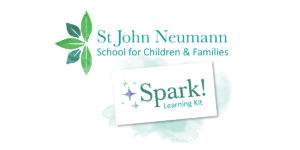 Spark! is a no-cost program for children ages 3-5 and their families. It is limited to the first 20 children to register by 9/10/2020.
At the St John Neumann School for Children and Families we will spark children's creativity and love of learning with experiences that awaken their imaginations every day.
Before we officially open our school at 401 Locust Street on March 29, 2021 we'd like to offer an exciting educational opportunity for Pre-School families in the Columbia Borough.
Register & Receive:
A Spark! Activity Box delivered to your home for 10 weeks!
And Online Video Guidance for your family.
Please call Heather Ha at 717.617.7997 to register your child today!